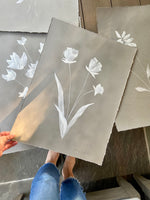 w e l c o m e !
I'm so happy you're here.
Take a moment to look around and explore.
Thank you for your support of my September 26th Fall Florals paper sale! I'm truly so appreciative. I'll be announcing the next sale date soon, so please check back.
Please subscribe to my newsletter to stay in the loop regarding future sales, and for special incentives.
I also post regularly to my Instagram @katherinewirthart, so be sure to follow along.
Feel free to reach out with any questions!